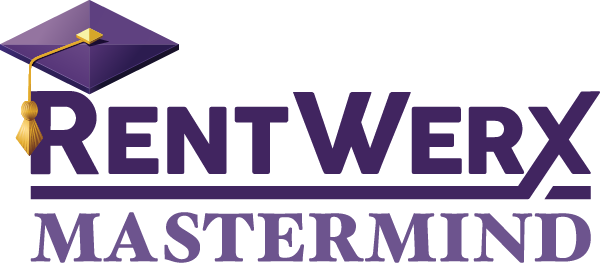 Brad is the Founder of RentWerx, in San Antonio, Texas managing 1,000+ single-family homes with 35+ staff members. In 2017, Brad started the Property Management Mastermind Podcast, created the Property Management Mastermind Facebook Group, started the Biz Dev Mastermind Consulting Service, and started the Property Management Mastermind Conference. Brad has been a NARPM® Member since 2014, as well as a presenter, speaker, and exhibitor at NARPM Conferences. He also served as the NARPM Accounting Standards Committee Chair in 2018 and has most recently been accepted as a NARPM certified instructor.
Hometown: Carroll, Iowa. Brad was raised in Carroll, Iowa attending Carroll Kuemper High School. His parents were both school teachers.
Education:
Graduate of the New Mexico Military Institute, Roswell, NM in 1996 where Brad was also commissioned as an Army Infantry Officer in addition to earning a baseball scholarship as a shortstop.
Graduate of Morningside University, Sioux City, IA in 1998 where Brad received his Bachelor's degree while continuing his baseball career. Upon graduation, Brad immediately went on to Army Active Duty.
Graduate of the University of Phoenix, San Antonio, TX in 2011 where Brad received his Master's of Business Administration degree.
Military Service:
1992 – Enlisted in the Iowa Army National Guard.
1996 – Commissioned as an Army Infantry Officer.
1998 – Entered Army Active Duty serving at Fort Lewis, WA and Camp Casey South Korea.
2002 – Left Army Active Duty and moved to San Antonio, TX.
Highly dedicated and goal-driven, Melanie Thomas is a spearheading Real Estate Broker and is the Chief Executive Officer at RentWerx Property Management. With nearly a decade of collective professional experience, Melanie has cultivated extensive market knowledge of the San Antonio and surrounding areas and has fostered the necessary leadership skills that not only exceed client expectations, but drives new levels of business growth along the way.
Melanie has always had an underlying admiration for the real estate industry and property management. This, along with her instilled commitment, resilience, and strong work ethic, all became the catalyst for her impressive resume to date. As a technology advocate and a top-notch property management expert since 2014, Melanie currently manages over 900 single-family homes and has achieved many designations throughout her career. Some of those said designations include:
ABR (Accredited Buyer Representative)
AHWD (At Home with Diversity)
C2EX (Commitment to Excellence)
ePRO
GRI (Graduate Realtor Institute)
MRP (Military Relocation Expert)
MPM (Master Property Manager)
SRES (Senior Real Estate Specialist)
PSA (Pricing Strategy Advisor)
RENE (Real Estate Negotiation Expert)
RMP (Residential Management Professional)
SRS (Seller Representative Specialist)
TRLS (Texas residential leasing specialist)
TRPM (Texas Residential Property Manager)
CRB (Certified Real Estate Brokerage Manager)
As a passionate individual, Melanie admires being a valuable resource for others to reach their real estate investing objectives. She has a true ardency for her career, values integrity and trust, and demonstrates her devotion by providing qualified and tactful services that surface favorable end results. This, in conjunction with her profound background and inventory of accomplishments to date, is what has positioned her to become the cornerstone property management leader that she is today.
Melanie loves what she does and is always seeking ways to advance herself both personally and professionally to give her clients and team the support they deserve. However, when she is not perfecting operations within the company, you can often find her performing as a Director for her local NARPM Chapter, and serving on the SABOR Property Management Committee. Furthermore, Melanie enjoys fishing, taking care of her two fur babies, and spending time with her husband and family in her free time.
Cristina was born and raised in the greater Houston area and moved to San Antonio in 2012. She has worked in the home building and real estate industry since 2016. She is committed to providing excellent customer service and making her clients happy.
Cristina loves the family vibe of San Antonio and plans to make it her forever home. When she's not helping her clients, she is an accomplished drummer and spends many hours on the road traveling to gigs.
Born and raised in Wellington, New Zealand, I relocated to beautiful San Antonio 6 years ago with my family. My husband is a Corpus Christi native so we elected to move over to San Antonio to raise our three children with all the benefits Texas has to offer.
I gained my degree at Victoria University of Wellington (graduating class of 1998) and have worked in an office setting ever since. My favorite thing to do is to spend time with my family exploring the outdoors.
In addition to being our Lead Business Development Consultant at The Biz Dev Mastermind, Brian has been the Director of Sales and Marketing at RentWerx Property Management in San Antonio, Texas since 2016. Since that time, RentWerx has experienced tremendous growth, adding over 1 door per calendar day for the past three years and counting. Today, Brian is still involved in Business Development at RentWerx, but has trained a team of dedicated sales professionals to pick up where he has left off.
His team of two Business Development Managers and two Virtual Assistants STILL consistently sign up more than 1 quality door per day.
Today, Brian focuses most of his attention on working with other Property Management professionals to help them grow their businesses. The success of RentWerx is partly due to learning what other successful PM's across the industry are doing and then applying it within our own business. In doing this, we have become master implementers, taking what others have found works, and applying it at RentWerx. This method has led to revolutionary changes within the business and is now the model for the Biz Dev Mastermind.
Brian has spearheaded the implementation of the systems and procedures that have led to RentWerx impressive rise. Now, he aims to implement those same systems in your business, leading to growth, increased revenue, and success.
I am passionate about connecting with people, helping others grow and succeed, and constantly want to keep learning!
I am San Antonio native and have over 10 years of Sales Experience! I am currently the Client Success Manager at BizDev Mastermind. I work with our team to help Property Management companies grow!
I assist with:
-Hiring: I help our Property Management clients hire a Business Development Manager. We handle the entire process from posting/managing the job listing, interviewing qualified candidates, recommending qualified candidates, and facilitating the final steps of finding the right candidate
-Sales and Marketing: I handle BizDev Mastermind's social media accounts and focus on outreach/prospecting. I also am working to develop relationships with other industry leaders!
I spent 10 years in the hospitality industry working with Hilton. During the course of my career, I gained a breadth of experience, including cold calling, prospecting, developing and participating in sales initiatives/blitzs, working with several teams to achieve one main goal, identifying and targeting different markets, and building relationships.
Outside of work, I love nature and all things health/wellness! I am always looking up new smoothie recipes that I can try and healthier versions of comfort foods! I also LOVE coffee and am always looking for new local coffee spots to try in San Antonio.
Shannon is a CPA and RIA (Registered Investment Advisor) that specializes in tax and accounting strategy for her clients. She seeks to provide solutions that free up her client's time to grow their business and know that their accounting and finance functions are in excellent hands.
Only 6 Attendees Will Have The Opportunity to Meet At the RentWerx Office!
DATES: 
To Be Announced
 LOCATION:  The brand new RentWerx office located at 3002 Napier Park, San Antonio, TX.
Learn More About the Mastermind Family